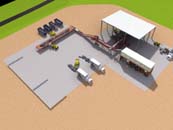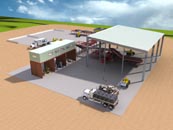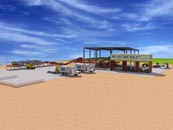 Construction now complete.

This recycling facility required a significant amount of site planning prior to siting the proposed structures. Layout of roads to satisfy vehicle and articulated truck movements, loading and unloading, delivery and ease of access and appropriate gradients were factors in considering the materials handling process which are accomodated within the site.
The site is a landfill site and the structure proposed is the most economical and simplest constructions proposed to work with both a soil condition such as this and client requirements.